General Information for the May 21, 2019 Undergraduate Ceremony
New Jersey Institute of Technology's Commencement Exercises for undergraduate candidates will be held on
Tuesday, May 21, 2019
, at 8:40 a.m. at Newark's Prudential Center.  
Candidates receiving a doctoral or a master's degree will not participate in this ceremony.
To receive Commencement updates, follow us on Facebook and Twitter.
---
---
Tickets and Simulcast
We are pleased to announce that tickets or invitations for guests are not required for this ceremony. However, please try to limit your guests to 10.
For guests who are unable to attend, the ceremony will be simulcast live on the web.  To view the ceremony, please visit njit.edu.
---
Please allow ample time for morning traffic and for the Prudential Center's required security checkpoint.
7:30 a.m. - Prudential Center doors open
8:40 a.m. - Processional begins
9:00 a.m. - Ceremony begins **
12:00 p.m. - Approximate end time for the ceremony
** Please note: All candidates are required to stay the duration of the ceremony to give the same courtesy to the last student whose name is called as was given to the first.  In the event that guests are leaving before the end of the ceremony, candidates are reminded to make alternative transportation arrangements, as they will not be permitted to leave early. 
---
Location, Travel Directions and Parking
Location
The ceremony will be held at the Prudential Center, located at 165 Mulberry Street, Newark, NJ 07102.
Travel Directions
Directions for driving or taking public transportation to the Prudential Center can be found here. Please note: Commencement falls on a weekday, so you should allow extra time for heavy traffic.  If you choose public transportation, the Prudential Center is two blocks away from Newark Penn Station.
Directions to the Prudential Center can be found here.
Parking
Parking is available for a charge at the commercial lots near Prudential Center, as indicated on this map. Costs vary, as the lots are privately owned.  Any information about discounted rates will be posted on this site, if and when it becomes available.
You also have the option of parking on campus and taking the city subway to Newark Penn Station or walking to the Prudential Center. 
Subway: You will need to purchase an "underground fare" ticket; you must validate your subway ticket before entering the subway car. Failure to validate your ticket can result in a summons from the City of Newark.
Walking: If you park on campus, you can walk to the Prudential Center. Directions can be found here. Please note: We do not recommend this option for the elderly or those with disabilities.
---
Seating for Candidates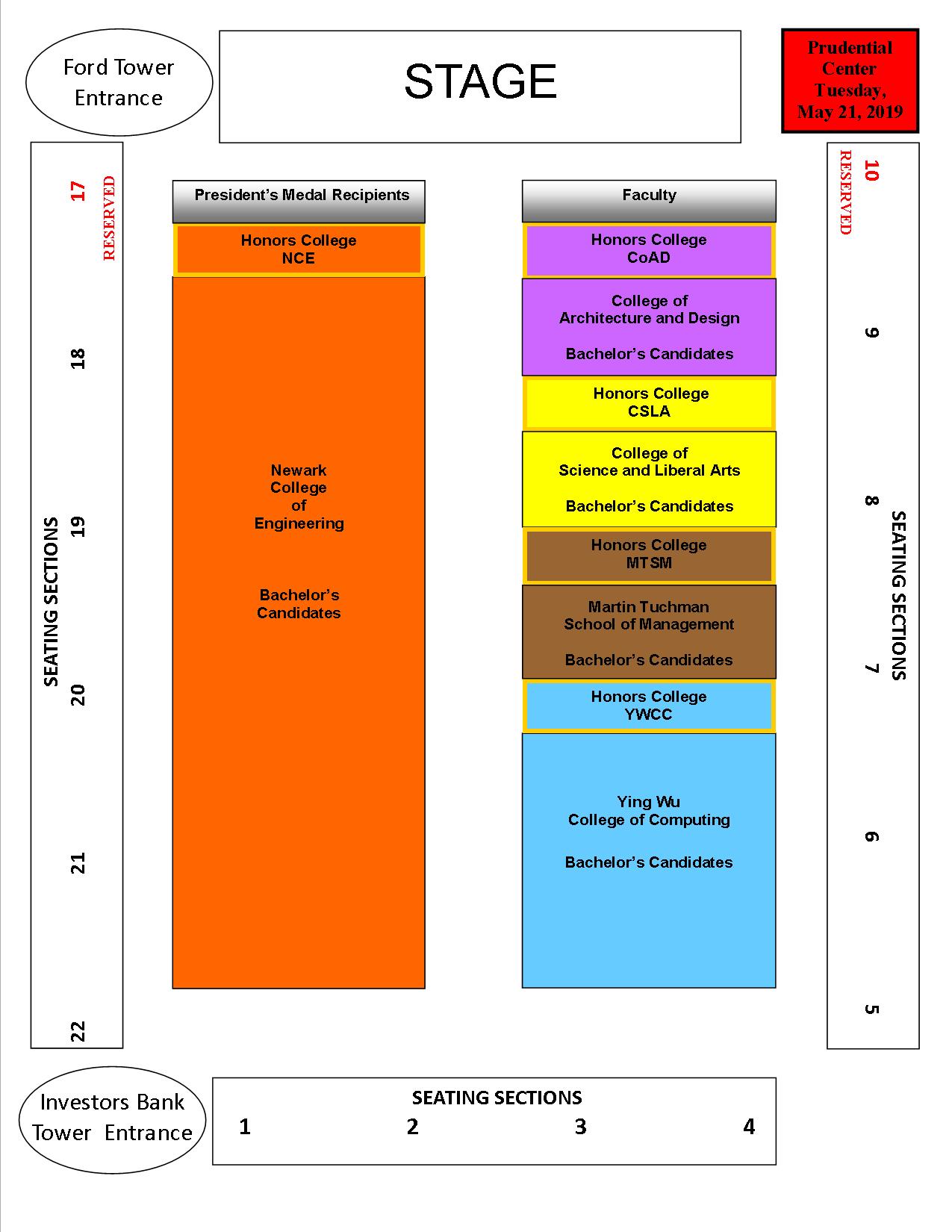 As you face the stage, President's Medal recipients will be seated in the first row on the left-hand side (house left/stage right).  The NCE bachelor's candidates will be seated directly behind them.
Seating on the right-hand side (house right/stage left) will consist of the following groups in order: Faculty, CoAD bachelor's candidates, CSLA bachelor's candidates, MTSM bachelor's candidates, YWCC bachelor's candidates.  All Albert Dorman Honors College candidates will sit as a group at the beginning of their college. 
---
Guest Seating
Tickets are not required to attend; however, we do suggest you refer to the "Seating for Candidates" section above so that you can get a better idea of where your candidate is seated and therefore you can plan your seating accordingly.  Please note:  Seating in sections 10 and 17 is reserved for university guests and is not a part of general admission.  All seats for guests of candidates are general admission and available on a first-come basis; guests are not allowed to reserve or block off seating.  If you attempt to do so, Prudential staff will enforce the policy.
---
Guest Services/Accessibility

Guest Services
The Prudential Center Guest Services Staff are available to answer your questions, collect lost and found items and provide assistance to guests at various locations.

Wheelchair Assistance 
If you need a wheelchair to assist you in entering the building or if you will require a wheelchair for the duration of the ceremony, you must bring your own.  Please note:  Ramps are provided at the entrance of the Ford Tower located at the corner of Lafayette and Mulberry Street.
The Prudential Center has a limited number of wheelchairs made available to our guests once they have entered the building.  Outside of the Prudential Center, wheelchairs will not be available.
Once inside, you can request assistance from the Prudential Center Guest Services. You do not need to reserve a wheelchair as they are made available on a first-come, first-served basis. Please refer to the following steps.
Guests in need of assistance should be dropped off curbside near the tower entrance.
Guests whose student is graduating from CoAD, CSLA, MTSM or YWCC will enter via the Investors Bank Tower.
Guests whose student is graduating from NCE will enter via the Ford Tower.
Upon entering, please inform the Prudential Security Staff that you will need a wheelchair.
Once you have received a wheelchair, an usher will escort you and your family to the wheelchair seating area.
There are elevators to assist you in getting to the proper location.
Once the usher has brought you to your seat, he or she will then return to the entrance with the wheelchair to assist other guests.
At the conclusion of the ceremony, an usher will return with a wheelchair to escort you to an exit.  The staff will need to accommodate all those they originally escorted to their seats, so we ask that you please be patient as they try to get everyone out as quickly as possible.

Sign Language Interpreter
If a candidate or guest requires a sign language interpreter, he/she must email the request to commencement@njit.edu by Sunday, April 28, 2019.

Assisted Listening Devices and Guest Services
Guest Services will gladly provide Assisted Listening Devices upon request.

Additional Assistance
If you are in need of additional assistance and it has not been addressed in this section, please email us at commencement@njit.edu by Sunday, April 28, 2019.
---
Who Are the Golden Highlanders?
It is an NJIT tradition to invite all alumni who have graduated from NJIT (Newark College of Engineering) 50 years ago or more to participate in the ceremony. After the degree candidates have processed, the Golden Highlanders are announced. It is one of the most memorable moments in the ceremony as they enter the arena to the sounds of cheers and applause from the candidates and their guests. We look forward to the participation of the Class of 2019 in 2069.
---
What NOT to Bring
For safety reasons, guests are refused entry if they are in possession of prohibited items. Illegal items will be confiscated and turned over to the police. If a guest is found inside the arena with prohibited items, the items will be confiscated, and the guest may be ejected from the facility.
The following items are not permitted at the Prudential Center:
aerosol cans
animals / pets (except service animals)
audio/video equipment
balloons and beach balls
cans, bottles, glass or other beverage containers
chains, studded bracelets, etc.
coolers or ice chests
drones of any type
illegal drugs
laser pens and pointers
noisemaking devices (i.e. whistles, air horns, drums, horns, vuvuzelas)
outside food and beverages
professional photography equipment (except cameras)
selfie sticks, GoPros and iPads
poles to display banners, flags, etc.
signs with wires, lights, and/or batteries
skateboards, rollerblades and hover boards
un-approved pamphlets, handouts, advertisements, etc.
weapons that include but are not limited to firearms, utility knives, razor blades, cork screws, pepper spray, tear gas, handcuffs, stun guns, etc.)
Any other item deemed to be inappropriate or dangerous by Prudential Center Management
*This list is subject to change at the discretion of Prudential Center Management.
---
Lodging, Restaurants and Attractions
For further information on lodging, restaurants and Newark destinations, we recommend you check the Greater Newark Convention and Visitors Center at newarkhappening.com.
There are several hotels in the Newark area.  NJIT does not endorse any of these; they are merely provided for your convenience as they have arrangements with NJIT to offer our guests a special rate.  You must identify yourself as an affiliate of NJIT to qualify for the discount.
Best Western Plus The Robert Treat Hotel
50 Park Place
Newark, NJ 07102
Phone: 973-622-1000

Please call the hotel and reference NJIT to receive the discounted rate of $109+tax for a single queen room or $125+tax for double full room.  Please book by April 30, 2019 to receive the discounted rate.

Courtyard by Marriott Newark Downtown
858 Broad Street
Newark, NJ  07102
Phone: 973-848-0070

We are currently finalizing rates, information to follow shortly.

Hampton Inn & Suites Newark Riverwalk Hotel
100 Passaic Avenue
Harrison, NJ 07029
Phone: 800-426-7866

Please use this link to receive the discounted rate of $159.00+tax per night.

Hotel: Hampton Inn & Suites Newark-Harrison-Riverwalk, NJ
Company Name: NJIT

Rate includes the following free services: shuttle to/from NJIT campus, buffet breakfast, parking, Wi-Fi, shuttle service to/from Newark Intl Airport. Please make reservations early as there are limited rooms.  Offer valid while supplies last.

Hilton Newark Penn Station
Gateway Center
1048 Raymond Blvd.
Newark, NJ 07102
Phone: 973-622-5000

Please call the hotel and reference NJIT to receive the discounted rate of $175+tax per night.  This full service hotel offers free shuttle service to/from Newark Intl. Airport.  Details provided at time of reservation.

Hotel Indigo Newark Downtown
810 Broad Street
Newark, NJ 07102   
Phone: 973-242-0065

Please book online and use booking code NJ1 to receive the discounted rate of $141+tax.  You must also provide the name of the group New Jersey Institute of Technology (NJIT) when making the reservation.  Rate include shuttle service.  Please book by May 7, 2019.

You can also book your room by calling Central Reservations at 866-246-3446.
We look forward to seeing you on Tuesday, May 21, 2019!