Guest Information for the May 23, 2019 Graduate Morning Ceremony
For CoAD, CSLA, MTSM and YWCC 
New Jersey Institute of Technology's Commencement Exercises for candidates receiving a Ph.D. or master's degree from the following colleges:  College of Architecture and Design (CoAD), College of Science and Liberal Arts (CSLA), Martin Tuchman School of Management (MTSM), and Ying Wu College of Computing (YWCC) will be held on Thursday, May 23, 2019, at 9:40 a.m. at NJIT's Wellness and Events Center (WEC).  
Candidates receiving a bachelor's degree from any college or Ph.D. or master's degree from Newark College of Engineering (NCE) will not participate in this ceremony.
Please make sure you read the General Information section to ensure you have all the information you will need.
To receive Commencement updates, follow us on Facebook and Twitter.
---
Schedule
8:30 a.m. - Guests are permitted to enter the Wellness and Events Center (WEC), and will be seated on a first-come, first-served basis. 
9:40 a.m. - Processional begins.
10:00 a.m. - Ceremony begins - If guests need to leave prior to the end of the ceremony, we ask that they be considerate of the remaining guests. Candidates are not permitted to leave before the end of the ceremony unless they have requested permission prior.
11:30 a.m. - Approximate end time of the ceremony.
Please review the Accessibility section under General Information for details.
---
Frequently Asked Questions
Do I need a ticket or an invitation?
This ceremony is a ticketed event.  You cannot attend the ceremony without a ticket.  Tickets can only be claimed by candidates.
All attendees must have a ticket to enter: this includes children and infants.  The unique barcode on this ticket allows one entry to the event.  If multiple copies of an E-ticket are made, the first copy of the E-ticket to arrive at the event will gain entry after scanning and validation.  Other copies of this ticket will be denied entry.
All guests and their property are subject to search.  Guests should plan on passing through magnetometers and/or hand wand screening.  No balloons, weapons or bags of any kind, with the exception of a small clutch purse, are permitted.  Please review the list of prohibited items on this website.
All seating for guests of candidates is general admission and available on a first-come basis; guests are not permitted to reserve or block off seating. If you attempt to do so, WEC security will enforce the policy.
Please refer to the seating chart below; it will also be made available to you on Commencement day along with the Commencement program booklet to help you identify the sections in which graduates are seated.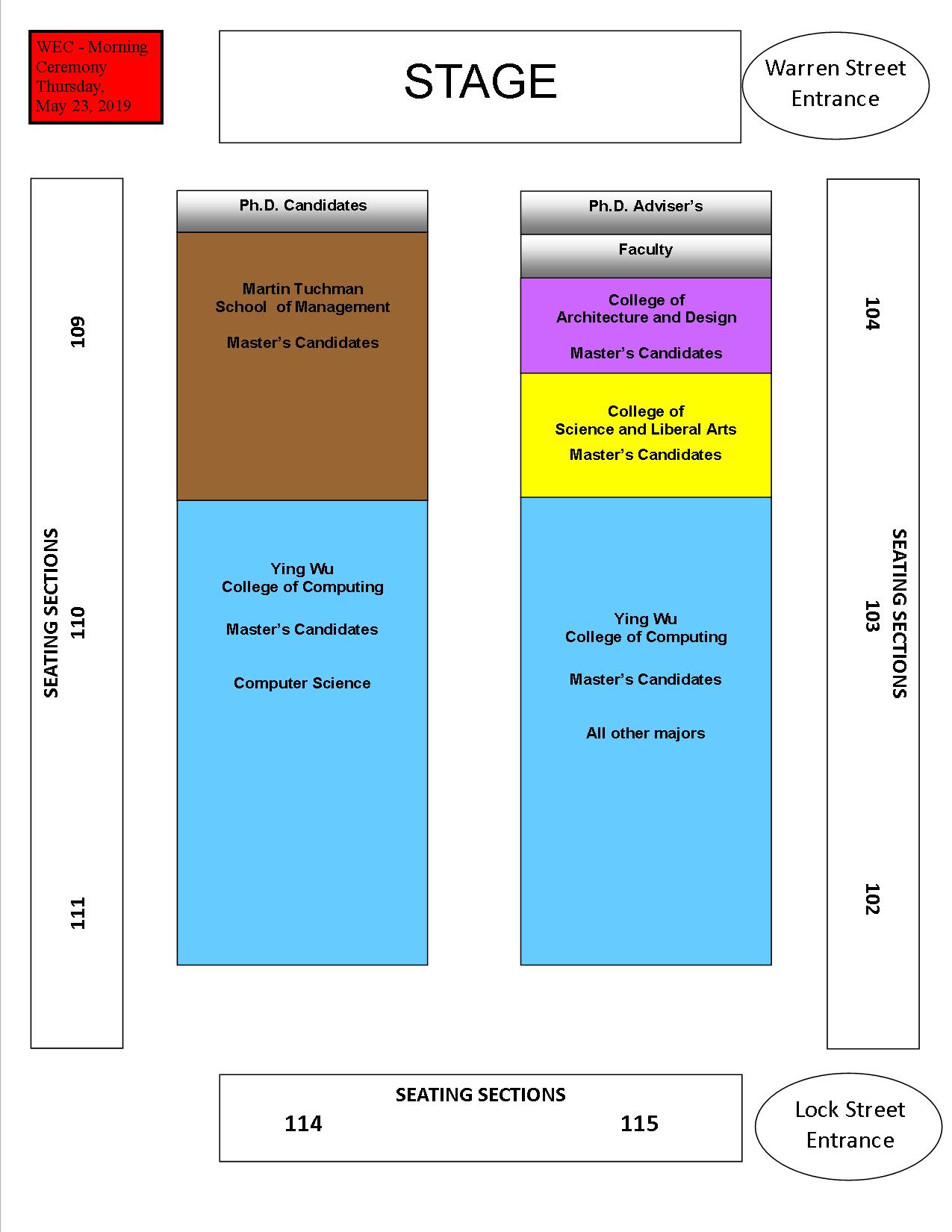 IMPORTANT NOTE: NJIT prohibits the direct or indirect sale or auction of All-University Commencement tickets. Ticket(s) may not be used for advertising, promotion (including contests, giveaways or sweepstakes) or other trade or commercial purposes.  Students engaging in such activities, as well as any other activity that disrupts the administration of the ceremony and/or violates any NJIT student conduct policy, will be subject to disciplinary sanctions. 
For guests who are unable to attend, the ceremony will be simulcast live on the web.  To view the ceremony, please visit njit.edu.
Where is Commencement held and how do I get there?
The ceremony takes place at the NJIT WEC, 100 Lock Street, Newark, NJ 07102. Directions for driving or taking public transportation to the WEC can be found here.  Please be mindful that you need to arrive by 8:30 a.m. as you will need to go through the security checkpoint.  We also recommend you allow some extra time for the heavy traffic which can be expected at that time. Candidates begin processing at 9:40 a.m.
Where do I park?
Parking is available at no charge at either of our parking decks; we recommend guests carpool:
Science & Technology Park Garage, 42 Wilsey Street, Newark, NJ
Parking Deck, 154 Summit Street, Newark, NJ
In addition to those designated spots in the above locations, parking lots 5 and 10 have been designated for accessibility parking.
Please refer to the campus map.
Where do I go after parking?
For your convenience, guests may enter the WEC through either the Warren Street entrance or Lock Street entrance.  The doors will open at 8:30 a.m. Only graduates and participants in the ceremony will be permitted to enter the lower level staging area. All guests must take the ramp or elevator to the guest area where they will receive their Commencement program booklet. Please remind your candidate that they are not permitted to bring personal items with them and they should leave them with you.

May I take graduation photos or record the ceremony?
You may take photographs and/or record the graduation ceremony from your seat. Professional photographers will also be taking photographs and will reach out to the candidates after the ceremony. No one is permitted to take pictures from the aisles. If you attempt to do so, you will be escorted to your seat by WEC staff.
 
Will Commencement be simulcast?
For guests unable to attend, the ceremony will be simulcast live on the web. To view the ceremony, please visit njit.edu.
Does the university supply Commencement announcements?
If you wish to purchase Commencement announcements to send to family and friends, you can place your order at the NJIT Bookstore.
Can I purchase a copy of the yearbook?
Representatives of the Nucleus yearbook staff will be at Commencement selling yearbooks. They will be located on the main concourse between both entrances. Please note: You will not receive your yearbook on the day of Commencement because Commencement is included in the yearbook. If you wish to order a yearbook online, you can do so here.  
Where do I meet my graduate after the ceremony?
It is recommended that candidates and their guests designate a meeting area prior to entering the WEC in order to eliminate confusion. No one is permitted back into the WEC once they have exited.  Please select a meeting location outside of the venue.
How do I obtain a visa to attend the ceremony?
NJIT does not issue letters for guests that need a visa.  For your convenience, a template is available for download. If you have further questions, please contact the Office of Global Initiatives by phone: + 1 (973) 596-2451, or by email: global@njit.edu.  
We look forward to seeing you the morning of Thursday, May 23, 2019!