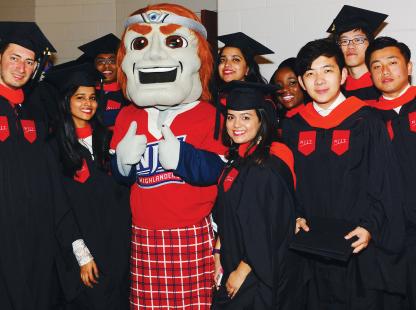 Information for all candidates
Commencement Overview
All candidates are invited to attend two ceremonies as part of their graduation experience. You must RSVP indicating your attendance to both events. Your response is needed by April 17 at 11:55 p.m.
The NJIT Commencement Ceremony with conferral of degrees will be held Tuesday, May 17, 2022, at 8:40 a.m. at the Prudential Center, located at 25 Lafayette Street, Newark, N.J. This ceremony will consist of university traditions, which include the procession of candidates, president's address, presentation of honorary degrees, award presentations and the conferral of degrees. Candidates and their guests will receive the official commemorative program that includes the names of all candidates. Please note: Candidates will not be called onto the stage or have their names announced as that will be done at their Convocation Ceremony. Although we are not distributing guest tickets for this event, we ask that you limit your guests to 6.

NJIT will host a Hooding Ceremony for Doctor of Philosophy candidates and college Convocation Ceremonies. All Convocation Ceremonies will be hosted at the NJIT Wellness and Events Center, located at 100 Lock Street, Newark, N.J. The Dean of your college will preside over this ceremony and it is at these ceremonies where candidates will cross the stage as their names are read, and they will receive their diploma cover. Your official Commencement photo will also be taken at this ceremony. 
All guests above 1 year old must have a ticket to view your Convocation Ceremony. Candidates participating in the event do not need a guest ticket to enter; their reader card will serve as their ticket.
Candidates participating in the Hooding Ceremony can have up to 10 guests. 
Candidates participating in the Convocation Ceremonies can have up to 3 guests. If additional tickets become available we will email candidates with the details.
You must claim your guest tickets by noon on Wednesday, May 4. You must claim your tickets as instructed; failure to do so will result in you forfeiting your tickets. All unclaimed tickets will then go into a general lottery where candidates can claim an additional ticket while supplies last. All guest seating is general admission and available on a first-come basis. All ticketing for the WEC Commencement ceremonies will be processed online; you do not need to pick up tickets.
IMPORTANT NOTE: NJIT prohibits the direct or indirect sale or auction of All-University Commencement tickets. Ticket(s) may not be used for advertising, promotion (including contests, giveaways or sweepstakes) or other trade or commercial purposes.  Students engaging in such activities, as well as any other activity that disrupts the administration of the ceremony and/or violates any NJIT student conduct policy, will be subject to disciplinary sanctions.
Important Dates for Commencement
April 15, 11:55 p.m.: Deadline to order your regalia for shipping to your preferred address. You must wear regalia to participate in all ceremonies. Claim your commencement regalia here. 
April 17, 11:55 p.m.: Deadline to RSVP to participate in a Convocation Ceremony and Commencement Ceremony.
April 17, 11:55 p.m.:Deadline to submit the phonetic spelling of your name and submit your name pronunciation. 
April 30, 11:55 p.m.: Deadline to inform Commencement organizers of any accessibility requirements or sign language interpreters needed.
May 4, noon: Deadline to claim your guest tickets for your Convocation Ceremony.
May 5th: Grad Fair | 10 a.m. - 4:30 p.m. | NJIT Wellness and Events Center.
Ordering Regalia: The delivery of regalia can take over two weeks. We strongly recommend you order your regalia as early as possible in case of any unforeseen delays in shipping. There is  a shipping fee to have your regalia delivered to your preferred address. You must wear regalia to participate in all ceremonies.
RSVP to Ceremonies: You must RSVP to attend a Convocation Ceremony and Commencement Ceremony. Failure to respond in the timeframe provided may affect candidate participation.
Phonetic and Name Pronunciation: To ensure your name is pronounced correctly, we strongly recommend you complete this portion of the Commencement process. Failure to do so may result in your name being mispronounced.
Please note: Deadlines cannot be extended beyond the dates mentioned due to the timeframe needed to complete production.
Who Can Participate
All graduates who received their doctoral, master's and/or bachelor's degrees in either August 2021 or December 2021.
Everyone who has been granted approval to participate and is thus on the Registrar's list.  Please note: There are separate lists for August, December and May candidates.
If you are unsure as to whether or not you have completed your degree requirements, contact your academic department or adviser.
If your name does not appear on your appropriate list, please contact commencement@njit.edu.
Commencement-related Outreach
Any Commencement information that needs to be mailed to you will be sent via email or to your address of record. This may include your diploma. If you have had or anticipate a change in address, please notify the university by updating your address through Highlander Pipeline. It is very important that you keep this address current at all times to ensure you are receiving the necessary correspondence.  
Latin Honors: Baccalaureate Candidates only with a 3.4 GPA or GREATER
All candidates who have earned medals for undergraduate academic honors of Cum Laude (GPA of 3.400 - 3.649), Magna Cum Laude (GPA of 3.650 - 3.849) and Summa Cum Laude (GPA of 3.850 - 4.00) will receive medals based on their current GPA, as the medals will be distributed prior to final GPA confirmation. The honors designation will appear in the Commencement program. For May candidates who earn honors once the degree is conferred, the designation will appear on the official transcript approximately one month after graduation. The honors designation will also appear on your diploma. If you are eligible, you will receive an email from the Dean of Students by The end of April. If you have any questions about eligibility, please contact commencement@njit.edu.
Diploma Distribution
For May 2022 candidates who are on the Registrar's list, have completed all of their degree requirements, and have no holds on their records, diplomas will be made available on Diploma Day. Additional information will be posted on the Office of the Registrar's website as soon as details and procedures have been finalized. If you are currently taking coursework at another institution as part of your degree requirements, you must arrange to have the transfer credit processed in sufficient time to be posted to your record before the department reviews your file for certification. Those who cannot be certified in a timely fashion and those with holds will receive their diplomas once all the requirements have been met. August 2021 and December 2021 graduates should have already received their diplomas. If you have not received your diploma, please contact the Office of the Registrar. 
Yearbooks
If you wish to order a yearbook, you may do so online. You must schedule an appointment to have your picture taken for the yearbook.  Please visit the Nucleus website for all information regarding this year's yearbook.
Alumni Association
As a graduate, you join the ranks of a proud alumni community over 76,000 strong which has the power to influence legislation, recruit deserving students, attract critical resources to the university, and open doors for other alumni. Please visit the Alumni Relations Office website for the most current information. Keep an eye out for all the activities associated with the Young Alumni Club, which consists of all alumni who have graduated within the past 10 years.
Lodging, Restaurants and Attractions
For further information on lodging, restaurants and Newark destinations, we recommend you check the Greater Newark Convention and Visitors Center at newarkhappening.com.
There are several hotels in the Newark area.  NJIT does not endorse any of these; they are merely provided for your convenience as they have arrangements with NJIT to offer our guests a special rate.  You must identify yourself as an affiliate of NJIT to qualify for the discount. We will post the participating hotels shortly.
Live Broadcast
All Commencement-related ceremonies will be simulcast live via the NJIT website.
Watch May 11, 13 & 17