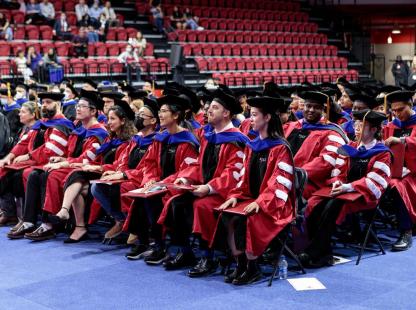 Graduate and Ph.D. Ceremony Information
Join us in celebrating the Class of 2023!
Tuesday, May 16, 2023
WEC, NJIT Campus
10 a.m. NCE and MTSM Candidates | 1:30 p.m. HCAD, CSLA and YWCC Candidates | 4:00 p.m. Ph.D. Candidates
It's taken years of hard work to get to this point, so make sure you don't forget any of these crucial steps to fully enjoy your commencement experience! Join us in celebrating you, the Class of 2023, including graduates from August 2022, December 2022, and candidates for May 2023. Filled with pageantry, it is the time for all graduates to celebrate the culmination of their time at New Jersey Institute of Technology. President Teik Lim will host the three ceremonies to honor all masters and doctoral graduates in front of their family and friends.  All students will be honored on Tuesday, May 16 at one of three ceremonies at NJIT Wellness and Events Center. 
Deadlines Approaching: Planning for Commencement 
Register for Ceremony: All eligible students must RSVP by April 22, 2023 to participate in the Commencement Ceremony. Failure to respond in the timeframe provided may affect candidate participation.

Phonetic and Name Pronunciation: To ensure your name is pronounced correctly, we strongly recommend you complete this portion of the Commencement process. Failure to do so may result in your name being mispronounced.
Accommodations: To assist with any needed ADA accommodations, including but not limited to wheelchair access, sign language interpreter, and other special accommodations, for graduates during the ceremony, please complete this portion of the Commencement process.  

Claim your Cap and Gown: The NJIT Bookstore is the one-stop shop to all the memorabilia, including your graduation cap and gown, also referred to as regalia.  Deadline to order your regalia for pick up at Grad Fair is March 29, 2023.  Deadline to order regalia for shipping to your preferred address is April 12, 2023. You must wear regalia to participate in all ceremonies. Claim your commencement regalia here.

Please note: Deadlines cannot be extended beyond the dates mentioned due to the timeframe needed to complete production.
---
Ceremony at NJIT Wellness and Events Center
The PHD and Masters Ceremonies will be hosted at the NJIT Wellness and Events Center, located at 100 Lock Street, Newark, N.J.
Guest Tickets: The Graduate and PHD ceremonies at the WEC are ticketed events.  Guests over the age of one cannot attend the ceremony without a ticket.  Ph.D. candidates will have up to ten guest tickets they can claim for the ceremony, and master's candidates will have up to four tickets they can claim for their ceremonies.  We ask that you claim only those tickets you intend to use before the April 22, 2023.  All unclaimed tickets will be made available for those needing additional tickets after May 1, 2023.

** Candidates must claim any or all of their guest tickets at any time until the Marching Order registration deadline of April 22, 2023.
All ticketing for the WEC Commencement ceremonies will be processed online; you do not need to pick up tickets.
All unclaimed tickets will then go into a general lottery where candidates can claim one additional ticket while supplies last. This will be done on a first-come, first served basis starting.  All seating for guests of candidates is general admission, and available on a first-come basis; guests are not permitted to reserve or block off seating. If you attempt to do so, WEC security will enforce the policy.
Candidates participating in the event do not need a ticket to enter; their Grad Pass sent a few days before the ceremony electronically from Marching Order serves as your ticket.
IMPORTANT NOTE: NJIT prohibits the direct or indirect sale or auction of All-University Commencement tickets. Ticket(s) may not be used for advertising, promotion (including contests, giveaways or sweepstakes) or other trade or commercial purposes.  Students engaging in such activities, as well as any other activity that disrupts the administration of the ceremony and/or violates any NJIT student conduct policy, will be subject to disciplinary sanctions. 
Live Streaming
For guests who are unable to attend, the ceremony will be simulcast live on the web.  To view the ceremony, please visit njit.edu on the day and time of the ceremony.
Yearbook
If you wish to order a yearbook, you may do so online. You must schedule an appointment to have your picture taken for the yearbook.  Please visit the Nucleus website for all information regarding this year's yearbook.
Class Rings
If you choose to order a class ring, you may select from a variety of NJIT styles from Balfour online. 
***Additional commencement information will be posted on the site and emailed to graduates closer to the ceremony.