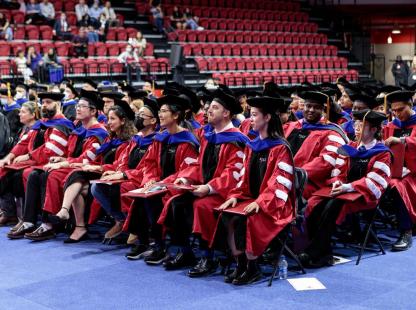 Graduate and Ph.D. Ceremony Information
Join us in celebrating the Class of 2023!
Tuesday, May 16, 2023
WEC, NJIT Campus
10 a.m. NCE and MTSM Candidates | 1:30 p.m. HCAD, CSLA and YWCC Candidates | 5:00 p.m. Ph.D. Candidates
It's taken years of hard work to get to this point, so make sure you don't forget any of these crucial steps to fully enjoy your commencement experience! Join us in celebrating you, the Class of 2023, including graduates from August 2022, December 2022, and candidates for May 2023. Filled with pageantry, it is the time for all graduates to celebrate the culmination of their time at New Jersey Institute of Technology. President Teik Lim will host the three ceremonies to honor all masters and doctoral graduates in front of their family and friends.  All students will be honored on Tuesday, May 16 at one of three ceremonies at NJIT Wellness and Events Center.
---
Ceremony at NJIT Wellness and Events Center
The PHD and Masters Ceremonies will be hosted at the NJIT Wellness and Events Center, located at 100 Lock Street, Newark, N.J.
Guest Tickets: The Graduate and PHD ceremonies at the WEC are ticketed events.  Guests over the age of one cannot attend the ceremony without a ticket.  Ph.D. candidates will have up to ten guest tickets they can claim for the ceremony, and master's candidates will have up to four tickets they can claim for their ceremonies.  We ask that you claim only those tickets you intend to use before the April 22, 2023.  All unclaimed tickets will be made available for those needing additional tickets after May 1, 2023.

** Candidates must claim any or all of their guest tickets at any time until the Marching Order registration deadline of April 22, 2023.
All ticketing for the WEC Commencement ceremonies will be processed online; you do not need to pick up tickets.
All unclaimed tickets will then go into a general lottery where candidates can claim one additional ticket while supplies last. This will be done on a first-come, first served basis starting.  All seating for guests of candidates is general admission, and available on a first-come basis; guests are not permitted to reserve or block off seating. If you attempt to do so, WEC security will enforce the policy.
Candidates participating in the event do not need a ticket to enter; their Grad Pass sent a few days before the ceremony electronically from Marching Order serves as your ticket.
IMPORTANT NOTE: NJIT prohibits the direct or indirect sale or auction of All-University Commencement tickets. Ticket(s) may not be used for advertising, promotion (including contests, giveaways or sweepstakes) or other trade or commercial purposes.  Students engaging in such activities, as well as any other activity that disrupts the administration of the ceremony and/or violates any NJIT student conduct policy, will be subject to disciplinary sanctions. 
Arrival and Logistics Information
Arrival
It is imperative that you arrive at the ceremony one hour prior to the ceremony start time, so you have time to go through security and find your line-up area. All candidates are required to stay for the duration of each ceremony.
Location
The ceremony takes place on the NJIT campus at the Wellness and Events Center (WEC) located at 100 Lock Street, Newark, NJ 07102.
Travel Directions
Directions for driving or taking public transportation to NJIT can be found here. Please remember that Commencement falls on a weekday, so you will need to allow some extra time for traffic.  
Parking
Parking is available at no charge at either of our parking decks; we recommend carpooling due to multiple ceremonies and anticipation of guests and graduates:
Science & Technology Park Garage, 42 Wilsey Street, Newark, NJ
Parking Deck, 154 Summit Street, Newark, NJ 
Please refer to the campus map.
Accessibility
Accessibility Parking
For your convenience, in addition to the accessibility parking spaces in our parking deck and garage, we have designated lots 5 and 10 as accessibility parking.  Please see the highlighted yellow area in this campus map.  Guests in need of assistance should be dropped off curbside near the entrances; guests will see the appropriate signage.
Sign Language Interpreter
If a candidate or guest requires a sign language interpreter, they must make the request via email commencement@njit.edu or inside Marching Order by April 22, 2023.
Additional Assistance
If you are in need of additional assistance and it has not been addressed in this section, please email us at commencement@njit.edu
What NOT to bring
For safety reasons, guests are refused entry, or ejected from the facility, if they are in possession of prohibited items. Illegal items will be confiscated and turned over to the police.
The following items are not permitted at the WEC:
 aerosol cans
alcoholic beverages
animals / pets (except service animals)
balloons, beach balls, silly string
cans, thermoses, bottles, glass or other beverage containers
coolers or ice chests
clothing containing vulgar language
illegal drugs
large bags and purses
laser pens and pointers
noisemaking devices (i.e. whistles, air horns, drums, horns, vuvuzelas)
outside food and beverage
professional photography equipment (other than a camera)
selfie sticks and GoPros
poles to display banners, flags, etc.
signs with wires, lights, and/or batteries
skateboards and/or rollerblades
strollers
un-approved pamphlets, handouts, advertisements, etc.
weapons (i.e. knives, pepper spray, tear gas, handcuffs, guns, etc.)
any other item deemed to be inappropriate or dangerous by WEC Management and/or the NJIT Police Department.
*This list is subject to change at the discretion of WEC Management.
---
Live Streaming
For guests who are unable to attend, the ceremony will be simulcast live on the web.  To view the ceremony, please visit njit.edu on the day and time of the ceremony.
Yearbook
If you wish to order a yearbook, you may do so online. You must schedule an appointment to have your picture taken for the yearbook.  Please visit the Nucleus website for all information regarding this year's yearbook.
Class Rings
If you choose to order a class ring, you may select from a variety of NJIT styles from Balfour online. 
Guest Information
We cannot wait to meet you and your family!
---