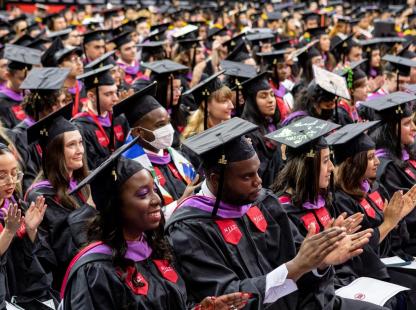 Undergraduate Ceremony Information
Join us in celebrating the Class of 2023!
Friday, May 19, 2023
Prudential Center, Newark, NJ
9:00 a.m. (Doors Open - 7:30 a.m.)
It's taken years of hard work to get to this point, so make sure you don't forget any of these crucial steps to fully enjoy your commencement experience! Join us in celebrating you, the Class of 2023, including graduates from August 2022, December 2022, and candidates for May 2023. Filled with pageantry, it is the time for all graduates to celebrate the culmination of their time at New Jersey Institute of Technology. President Teik Lim will host the four ceremonies to honor all graduates in front of their family and friends.  All undergraduates will be honored on Friday, May 19 at the Prudential Center at 9:00am.
Deadlines Approaching: Planning for Commencement 
Register for Ceremony: All eligible students must RSVP by April 22, 2023 to participate in the Commencement Ceremony. Failure to respond in the timeframe provided may affect candidate participation.

Phonetic and Name Pronunciation: To ensure your name is pronounced correctly, we strongly recommend you complete this portion of the Commencement process. Failure to do so may result in your name being mispronounced.
Accommodations: To assist with any needed ADA accommodations, including but not limited to wheelchair access, sign language interpreter, and other special accommodations, for graduates during the ceremony, please complete this portion of the Commencement process.  

Claim your Cap and Gown: The Bookstore is the one-stop shop to all the memorabilia, including your graduation cap and gown, also referred to as regalia.  Deadline to order your regalia for pick up at Grad Fair is March 29, 2023.  Deadline to order regalia for shipping to your preferred address is April 12, 2023. You must wear regalia to participate in all ceremonies. Claim your commencement regalia here.
Please note: Deadlines cannot be extended beyond the dates mentioned due to the timeframe needed to complete production.
---
Prudential Center
The ceremony will be held at the Prudential Center, located at 165 Mulberry Street, Newark, NJ 07102.
There will be no guest tickets issued for Prudential Center, but we ask that you limit your number of guests to 6.
Additional ceremony arrival and parking information will be available closer to the ceremony. 
Live Streaming
For guests who are unable to attend, the ceremony will be simulcast live on the web.  To view the ceremony, please visit njit.edu on the day of the ceremony.
Yearbook
If you wish to order a yearbook, you may do so online. You must schedule an appointment to have your picture taken for the yearbook.  Please visit the Nucleus website for all information regarding this year's yearbook.
Class Rings
If you choose to order a class ring, you may select from a variety of NJIT styles from Balfour online.  
Latin Honors: Baccalaureate Candidates only with a 3.4 GPA or GREATER
All candidates who have earned medals for undergraduate academic honors of Cum Laude (GPA of 3.400 - 3.649), Magna Cum Laude (GPA of 3.650 - 3.849) and Summa Cum Laude (GPA of 3.850 - 4.00) will receive medals based on their current GPA, as the medals will be distributed prior to final GPA confirmation.  If you are eligible, you will receive an email from the Dean of Students by the end of April. If you have any questions about eligibility, please contact commencement@njit.edu.
***Additional commencement information will be posted on the site and emailed to graduates closer to the ceremony.