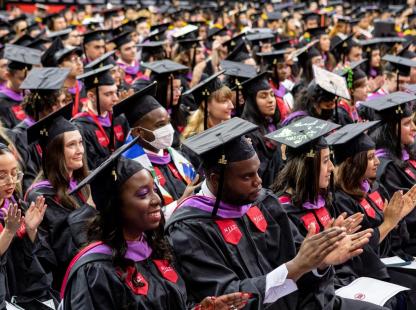 Undergraduate Ceremony Information
Join us in celebrating the Class of 2023!
Friday, May 19, 2023
Prudential Center, Newark, NJ
9:00 a.m. (Doors Open - 7:30 a.m.)
It's taken years of hard work to get to this point, so make sure you don't forget any of these crucial steps to fully enjoy your commencement experience! Join us in celebrating you, the Class of 2023, including graduates from August 2022, December 2022, and candidates for May 2023. Filled with pageantry, it is the time for all graduates to celebrate the culmination of their time at New Jersey Institute of Technology. President Teik Lim will host the four ceremonies to honor all graduates in front of their family and friends.  All undergraduates will be honored on Friday, May 19 at the Prudential Center at 9:00am.
---
Prudential Center
The ceremony will be held at the Prudential Center, located at 165 Mulberry Street, Newark, NJ 07102.
There will be no guest tickets issued for Prudential Center, but we ask that you limit your number of guests to 6.
Additional ceremony arrival and parking information will be available closer to the ceremony.
See map for suggested entrance locations for graduates and guests.
Arrival and Logistics Information
Arrival 
It is imperative that you arrive at the ceremony no later than one hour prior to the ceremony start time with a printed GradPass, so you have time to go through security and find your seating. All candidates are required to stay for the duration of each ceremony.
Prudential doors open at 7:30am for students and guests
The Prudential Center is an accessible facility that can accommodate guests with physical challenges. Please visit https://www.prucenter.com/ada-guide for details. Commencement staff will be available to provide assistance. We strongly suggest your family arrive early and park at the Prudential Center. There are a number of independently owned parking lots across the street. 
Bags are not permitted inside of Prudential Center
The only exceptions are soft sided clutches/purses/wallets under 4" x 7" with a shoulder strap or wrist strap attached, and medical or childcare bags under 12" x 16" x 6". Patrons with exceptions should enter at the Ford Tower or the Lafayette Street entrance and expect to have their bags X-rayed. Bags that do not meet these expectations must be returned to the guest's vehicle or stored in a Prudential Center supplied locker at the guest's expense. Lockers are located outside the Tower and Lafayette Street entrances.
Schedule
Please allow ample time for morning traffic and for the Prudential Center's required security checkpoint.
| | |
| --- | --- |
| 7:30 a.m. | Prudential Center doors open and graduates are seated on the floor  |
| 8:40 a.m. | Processional begins  |
| 9:00 a.m. | Ceremony begins ** |
| 11:30 a.m. | Approximate end time for the ceremony |
** Please note: All candidates are required to stay the duration of the ceremony. In the event that guests are leaving before the end of the ceremony, candidates are reminded to make alternative transportation arrangements, as they will not be permitted to leave early.
Location, Travel Directions and Parking
Location
The ceremony will be held at the Prudential Center, located at 165 Mulberry Street, Newark, NJ 07102.
Travel Directions
Directions for driving or taking public transportation to the Prudential Center can be found here. Please note: Commencement falls on a weekday, so you should allow extra time for heavy traffic.  If you choose public transportation, the Prudential Center is two blocks away from Newark Penn Station.
Directions to the Prudential Center can be found here.
Parking
Parking is available for a charge at the commercial lots near Prudential Center, as indicated on this map. Costs vary, as the lots are privately owned.  Any information about discounted rates will be posted on this site, if and when it becomes available.
You also have the option of parking on campus and taking the city subway to Newark Penn Station or walking to the Prudential Center. 
Subway: You will need to purchase an "underground fare" ticket; you must validate your subway ticket before entering the subway car. Failure to validate your ticket can result in a summons from the City of Newark.
Walking: If you park on campus, you can walk to the Prudential Center. Directions can be found here. Please note: We do not recommend this option for the elderly or those with disabilities.
Seating for Candidates
Candidates should arrive fully dressed and will be seated by College as they arrive and escorted to the floor.  The GradPass emailed to them should be PRINTED and it will contain the seating area to assist with order. 
Guest Seating
Tickets are not required to attend, but we ask that you limit your number of guests to 6. We do suggest you refer to the "Seating for Candidates" section above so that you can get a better idea of where your candidate is seated and therefore you can plan your seating accordingly.  Please note:  Seating in sections 10 and 17 is reserved for university guests and is not a part of general admission.  All seats for guests of candidates are general admission and available on a first-come basis; guests are not allowed to reserve or block off seating.  If you attempt to do so, Prudential staff will enforce the policy.
Guest Services/Accessibility
Guest Services
The Prudential Center Guest Services Staff are available to answer your questions, collect lost and found items and provide assistance to guests at various locations. Please refer to guest information pages for more details.  Any student requested accommodations should be requested inside the Marching Order Registration by April 22, 2023.  
What NOT to Bring
For safety reasons, guests are refused entry if they are in possession of prohibited items. Illegal items will be confiscated and turned over to the police. If a guest is found inside the arena with prohibited items, the items will be confiscated, and the guest may be ejected from the facility.
The following items are not permitted at the Prudential Center:
aerosol cans
animals / pets (except service animals)
audio/video equipment
balloons and beach balls
cans, bottles, glass or other beverage containers
chains, studded bracelets, etc.
coolers or ice chests
drones of any type
illegal drugs
laser pens and pointers
noisemaking devices (i.e. whistles, air horns, drums, horns, vuvuzelas)
outside food and beverages
professional photography equipment (except cameras)
selfie sticks, GoPros and iPads
poles to display banners, flags, etc.
·signs with wires, lights, and/or batteries
skateboards, rollerblades and hover boards
un-approved pamphlets, handouts, advertisements, etc.
weapons that include but are not limited to firearms, utility knives, razor blades, cork screws, pepper spray, tear gas, handcuffs, stun guns, etc.)
Any other item deemed to be inappropriate or dangerous by Prudential Center Management
*This list is subject to change at the discretion of Prudential Center Management
---
Live Streaming
For guests who are unable to attend, the ceremony will be simulcast live on the web.  To view the ceremony, please visit njit.edu on the day of the ceremony.
Yearbook
If you wish to order a yearbook, you may do so online. You must schedule an appointment to have your picture taken for the yearbook.  Please visit the Nucleus website for all information regarding this year's yearbook.
Class Rings
If you choose to order a class ring, you may select from a variety of NJIT styles from Balfour online.  
Latin Honors: Baccalaureate Candidates only with a 3.4 GPA or GREATER
All candidates who have earned medals for undergraduate academic honors of Cum Laude (GPA of 3.400 - 3.649), Magna Cum Laude (GPA of 3.650 - 3.849) and Summa Cum Laude (GPA of 3.850 - 4.00) will receive medals based on their Fall GPA and credits prior to the application of any special grades, as the medals will be distributed prior to Spring final GPA confirmation. If you graduated in December or August it will be based on your final GPA and credits, prior to the application of any special grades. If you are eligible, you will receive an email from the Dean of Students by the end of April. If you have any questions about eligibility, please contact commencement@njit.edu.
***Additional commencement information will be posted on the site and emailed to graduates closer to the ceremony. 
Guest Information
We cannot wait to meet you and your family!
---